Eyerly Chassis
H Modified
Specifications
Builder: Harry Eyerly
Chassis: Ladder type frame.
Main members: 2 3/8" OD mild steel tube
Body hoops: 1/2" & 3/4" tubes
Engine: 736cc Crosley marine type.
CIBA with steel crank. Compression 9.5:1.
Originally designed to turn 10,000 RPM on alky [alcohol fuel].
27 rear wheel horsepower at 7000 RPM.
Twin MC-2 S.U. carburetors.
Transmission: Jowett Jupiter Meadows
Weight: 750 lbs by 1957 -- thatís fractionally more than one pound for every cc of engine displacement!2. All parts that would take it, were drilled for lightening, including the generator casting, frame members, starter, etc.
Front Suspension: Semi-elliptic leaf springs to a stock Crosley axle
Rear Suspension: Quarter-elliptic leaf springs and a Crosley axle with special steel hubs. Hubs are changes after every three races.
Steering: Crosley
Brakes: Crosley disc brakes
Wheels: Stock Crosley, drilled to reduce weight (see the photos)
Current Owner: Tommy Tompkins of Portland, Oregon. He races it from time to time in vintage events on the West Coast as business commitments allow.
---
Background
"Harry Eyerly, along with John Porter, are pioneers in class H racing. The Eyerly Crosley has been picking up brass vases and pewter mugs since 1953 when it was known as the 'Porsche Duster'. During the entire 1954 season class H was Eyerly's personal property -- without a single failure. Revamped for the '55 season he repeated, and after still further modification he spent the '56 season worrying the big stuff in the unlimited events. The secret of his tiny scarlet rig was its amazing dependability and fantastic cornering. I was at Pebble Beach for the 1956 events, and had a ball watching the big iron come bombing into a turn, shut off, coast through and then dig out -- the Eyerly Crosley in the lead! He didn't have to shut off ... he just kept his foot in it, rear end hanging out, with the rear wheels churning toward the next straight.
'Heart' of the machine was a detuned CIBA 45 [cubic] inch Crosley mill taken from one of Harry's racing hydroplanes. The compression was upped and SU carburetors from a motorcycle were fitted, but the stock cam was retained. Power was transmitted through a solid clutch disk to a Jowett Jupiter Meadows box. Running gear was stock Crosley with disc brakes. The frame was a single ladder type fabricated from 2.75 inch heavy wall tubing. Body hoops of 1/2 and 3/4 inch tubing were welded to the ladder, after which the body aluminum was 'wrapped' over the hoops and secured with self tapping metal screws. As the body was built by Harry, who had no previous experience as a 'panel beater,' the lines were kept simple, with no compound curves.
Rumor has it that Harry has been secretly building a new 'Scarlet Runner'"1
Another Article
"Harry Eyerly was a transplant from hydroplane racing, and the heart of his H-Mod car was a relatively mild 736cc Crosley marine engine which produced a whopping 22 hp at the rear wheels. It was a simple car using a hodge-podge of stock parts--a clutch from a Jowett Jupiter, stock running gear from Crosley with disc and a superlight and simple ladder-type frame. It was 1000 lbs when first built in 1953 and 750 lbs by 1957 -- thatís fractionally more than one pound for every cc of engine displacement! Eyerly really kept it simple with a "shoebox" inspired body of his design and making--crude and very simple with no compound curves.
No matter the looks, Eyerly dominated H-Mod in the West. He ran without one single mechanical failure in 1955 and won H-Mod in 1953 and 1954. A tribute to building them light and keeping it simple! Fred Bowman currently campaigns the car in West Coast vintage racing."2


Click to go to the
H Mod Yahoo group

"Everly's special cornering
on two wheels. Note the
front right wheel.
It's airborne!"1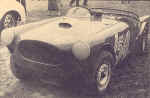 "Body shell formed by the
owner is a simple and
straightforward with no
compound curves."1


"This dice between Ken
Miles in an MG and Eyerly
was a sight to see."1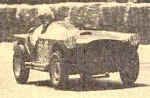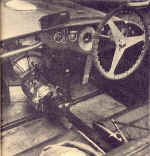 "Cockpit is stark
and businesslike."1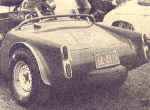 "Rear wheels take
five-inch
dirt track tires"1.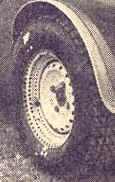 Note the holes drilled
in the wheels to
lighten them.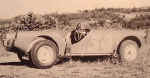 "photo courtesy
Road & Track magazine"2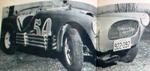 photo of
Car Craft magazine
article April 1954